The Gardens
In this facility, all tenants live independently (with or without Home Care), but most participate in our meal program and all have access to a range of on-site services. The front entrance is locked at all times, with guest entrance available through an intercom system.
Call for availability – (204) 324 – 8945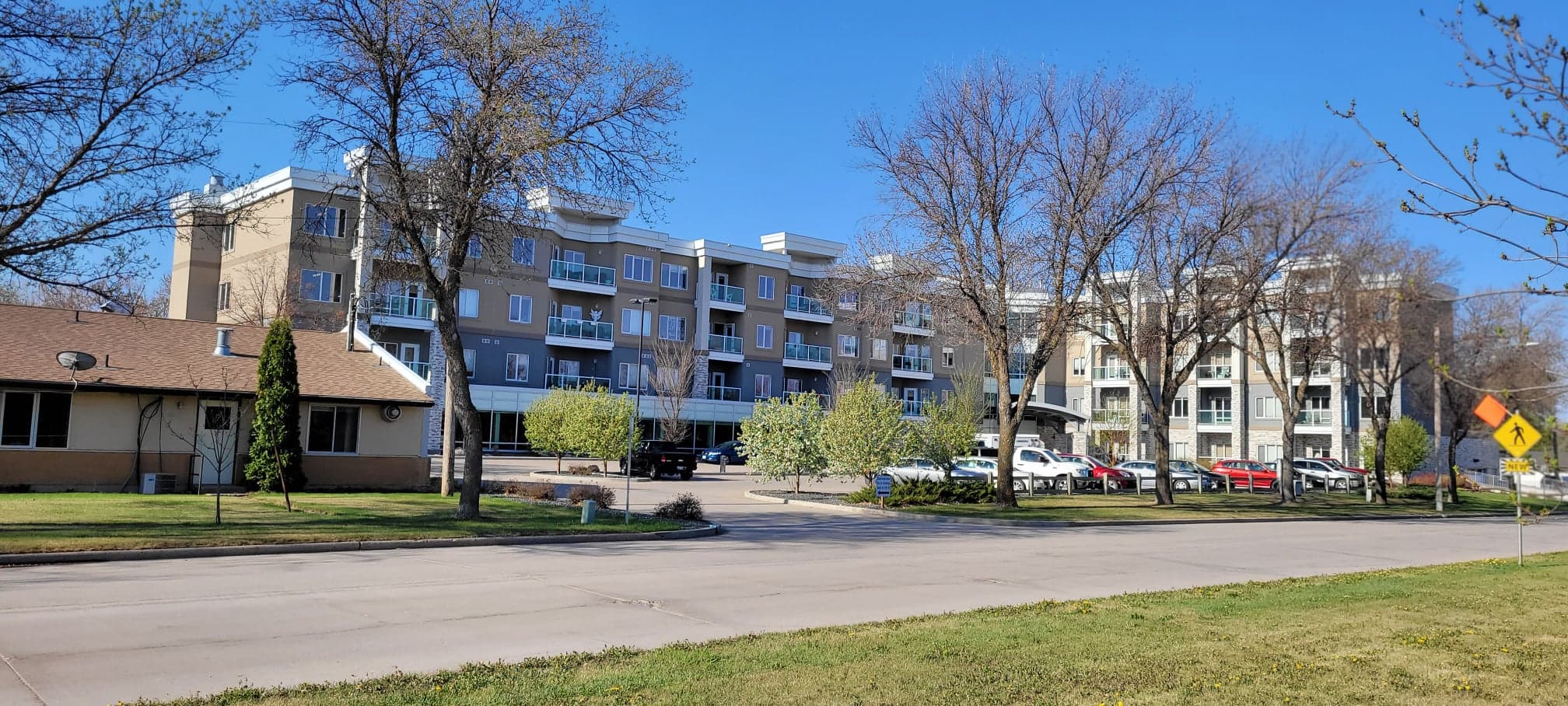 RENT – Rents depend on income — call the office @ (204) 324 – 8945 for more information.
*Suite Loans required if net worth $50,000 or more — we pay 3% interest on loan monthly.
Note: Meals & Amenities extra
MEALS – All meals are optional, but most tenants choose to buy the full Supper Plan. Credits are available for missed meals. Meals are served at the following times in The Gardens dining room: Breakfast: 7:00 AM – 10:00 AM, Lunch: 11:30 AM – 1:00 PM, Supper: 4:30 PM – 6:30 PM. One option is offered: Daily Special, or a side menu with lighter meals. See meals. Breakfast and Lunch are also available. Meal Plans are available for tenants in all combinations at a discounted price per meal. Family members and guests are welcome to come for meals — no notice is needed except for larger gatherings. Coffee is available free for Tenants, $1.00 for guests in the dining room. NEW SNACK FRIDGE IN THE DINING ROOM
SERVICE PACKAGE – Every suite pays a monthly Service Package which includes the basic satellite package, complimentary coffee all day in the dining room, helps to pay for our Life Enrichment Coordinator and subsidizes a lot of activities, helps subsidize the common rooms like the MPR, Salon, Exercise Room, Library, daily garbage pick-up, recycling pickup, compost pickup etc.
TENANTS MAILING ADDRESS – To send mail to a Tenant, use the following address:
(Tenants Suite #) – 140 10th Ave NE, R0G 0B7
THE GUEST SUITE – Our guest suite is available to tenants' guests. They will be comfortable in a room with a queen-sized bed, a double sofa bed, a kitchenette, coffee maker, and TV. Bookings are made by Administration. Check-in time is 4:00 pm on the day of arrival, and check-out time is 11:00 am on the day of departure. We accept cash, debit or cheque for payment or charge to the tenants' suite if the tenant wishes to pay for the room. Contact for prices.
LIFE ENRICHMENT
Concerts
Bible Studies
Bingo
Crafts
Games
Theme Meals
Paint Nights
The Garden Post   (our monthly Newsletter)
and much more…
Please contact the Life Enrichment team if you have ideas for events, activities or outings — [email protected] or 204-324-8945.
Furnished C suite – 2-bedroom Suite
SALON
– Located on the second floor of The Gardens (see General Information)
Hairdressers
Manicures & Pedicures
Massages
EXERCISE ROOM
– Located on the third floor of The Gardens
Exercise bikes
Treadmills
TV
LIBRARY
– Located on the fourth floor of The Gardens.
Variety of books
Free Wi-Fi
Comfortable space to sit and read
Best view of the sunsets!
SATELLITE TV
– All tenants get the basic Shaw satellite package included in a monthly Service Package.
WI-FI
– Free Wi-Fi is available in the Library and Solarium. To purchase Wi-Fi for your own apartment, please contact MTS or Valley Fiber.
BBQ
– Gas barbecues are not allowed. Electric barbecues are acceptable. A gas barbecue is available in our Courtyard.
MAIL
– Mail is delivered to your mailbox in the mailroom in the Lobby.
MAILING
ADDRESS – Your suite # – 140 10th Avenue NE, Altona MB R0G 0B7
PARKING
Parking is available in the parking lot (assigned with a plug-in) or in the Parkade for an extra cost.
STORAGE
– A storage locker is provided for each suite in the Parkade.
LAUNDRY
– Stacked washer and dryer supplied in each suite.
HOUSEKEEPING
– Services available.
SECURITY
– The entrance door is locked 24 hours a day. An intercom located in the entrance allows tenants to let guests into the building. The intercom includes a directory of all tenants with suite numbers. Guests may enter the suite number, or if they do not know it, they may scroll through the list to find the appropriate name and then press the green phone icon button. This connects to the tenant's phone, who can then choose to let them in from the convenience of their room. The entrance door will then automatically unlock and open.
GARBAGE/RECYCLING
– Garbage and Recycling are picked up every morning Monday to Friday, excluding stat holidays
MULTIPURPOSE ROOM
– The MPR is provided to Tenants for family gatherings and activities.
Below are the charges:
Tenants 
$25
Nontenants
$50 for half day
$100 for full day
Call Administration at 204.324.8945 to book. Catering available — contact the kitchen for details.